Guttering and gutter repairs in Brighton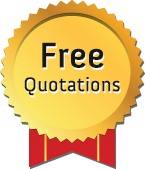 Guttering performs an important function in keeping rain water away from the roof and brickwork of your property by channeling it away efficiently. Over a period of time your gutters may deteriorate due to the demands placed on them over the years, so repairs and possible replacement may be required.
Perhaps you've had enough of guttering that needs re-painting periodically? If so, you may be interested in installing a more modern, low-maintenance type such as UPVC. Maybe your gutters have started to drip, crack or leak in some way?
Whatever your needs, we're the professionals in Brighton to call, as we have many years experience and enjoy an excellent reputation for top class work and customer service.
Don't leave your guttering to chance
Inefficient gutters can have serious ramifications for the condition of your property. If water is not safely drained away, it can penetrate the brickwork and get into roof spaces. Prompt attention is required from experts who know what they're doing.
Experienced - we provide guttering services in an array of different styles and for all types of property in the Brighton area.
Fair and honest - we'll give you honest, professional advice to effect a long term, durable repair or guttering installation.
Competitive pricing - we provide full, fair and free quotations to show you how affordable gutter repairs can be.
Customer service taken seriously
We don't just talk about customer service, we demonstrate our commitment to it by guaranteeing your satisfaction on all work we do for you. We're your clear choice for guttering in Brighton.
To see how we can help you, call us now on 01273 855175.