Flat roofing in Brighton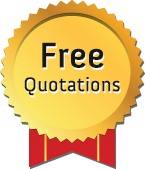 With an enviable reputation, many years of flat roofing expertise and a competitively priced service, we're your obvious choice of roofer if you need a new flat roof installed or repaired. Our happy and growing customer base in the Brighton area is your reassurance you're dealing with professional tradesmen you can rely on.
We're confident we can provide just about any flat roofing work you're likely to need from the simplest minor repair up to the installation of a new flat roof. Why not get in touch to see how we can help?
We've achieved our local success by providing honest and reliable service. We'll be pleased to advise on the best course of action - not necessarily the most expensive one - and endeavour to complete the work on time with the minimum of disruption to you.
Need a flat roofing expert? Your choice is an easy one
When it comes to your flat roofing needs, we offer you a winning combination of top class work and the ultimate in customer service. Call now for:
Expertise - we offer a full flat roofing service, from simple repairs through to the installation of a brand new flat roof.
Customer service - we're well established, open and honest and always put our customers - and our reputation - first.
Best quality - we are proud of the fit and finish we offer, so we always use the best quality materials for all work
Satisfaction guaranteed
We're confident we can provide you with a top class flat roofing service you'll be delighted with. We back this up with our satisfaction guarantee on all work for your peace of mind.
We're proud of our reputation throughout Brighton and look forward to showing you why our flat roofing services are so in demand. Call now on 01273 855175.